The Villa is nestled in the peaceful rural countryside between the little typically Greek Village of Mavrata (Μαυρατα) and the larger fishing village of Katelios (Κατέλιος) on the beautiful picturesque Ionian Island of Kefalonia (Κεφαλονιά). You may also sometimes see Kefalonia spelt as Cephallenia, Cephallonia, Kefallinia, or Kefallonia, Κεφαλληνία , Κεφαλλονιά and Κεφαλονιά !
Located on the edge of the village of Mavrata, it is surrounded on three sides by Olive groves and vineyards. On the other side is the Ionian Sea with spectacular views south over to the neighbouring island of Zakynthos and Eastwards over the Peloponnese mainland of Greece. The tranquil quiet location is a haven for wildlife and you will often see wild horses, buzzards, pine marten, owls, bats and house martins around the property. The one acre site is completely enclosed and gated and contains the house and pool area, lawns, a young olive grove, fruit trees and a lit private driveway with ample parking for up to 4 cars.
The property
The extensive property consists of a large individually designed 3 bedroom main villa, complemented perfectly by the charming 1 bedroom guest villa, allowing the discerning travellers to be accommodated within the same prestigious residence, whilst giving an opportunity for privacy as well. The 2 properties are for rental together and will allow a total of 8 guests to relax and immerse themselves in complete and utter luxury. To the side of the main villa is an entertainment area which houses a large covered BBQ kitchen area and an Al Fresco dining area.
Villa Aglaia is a home finished and furnished to very high standards and contains everything you require for your perfect holiday.
The villa benefits from a large open-plan ground floor area, comprising a large lounge and dining area leading through to a modern fully equipped fitted kitchen.
The ground floor also houses a double bedroom complete with en-suite bathroom and fitted wardrobes. On the first floor you will find the master double en-suite bedroom with its own South Western facing balcony, ideal for those sunsets. There is also another twin en-suite bedroom, again both rooms containing fitted wardrobes. Both upstairs bedrooms also have large sliding patio doors accessing a further large shared balcony making the most of the wonderful sea views and spectacular sun rises.
covered patio area with seating outside. Beyond is the lawn area leading to the pool area.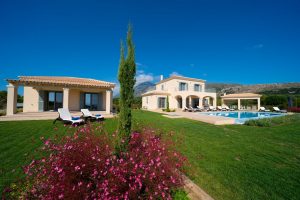 The separate guest house incorporates a living / dining area with fully equipped kitchen and a separate bedroom with Ensuite facilities. The guest house also has a covered patio area with seating outside. Beyond is the lawn area leading to the pool area.
The lounge, kitchen and downstairs bedroom areas of the main villa open out via glass sliding doors onto extensive veranda areas, allowing guests to make the most of the expansive views and giving immediate access to the pool, Jacuzzi, spacious patios and the large external entertainment area.
The veranda and patio areas are furnished with comfortable seating and ample sun loungers.
Other things to note
We operate a live booking calendar for checking availability and making a booking in real time. Your stay can be 5 or more nights and start any day (subject to the availability) to suit flights and prices
Please note that towels and pool towels are provided and a mid-week change of towels and bedding is provided.
To enjoy this beautiful island and the many sites, beaches, villages, towns, Tavernas and restaurants and so much to explore we strongly suggest renting a car for all or part of your stay. We recommend Pefanis Car Hire, Greekstones Rent A Car and CBR Car rental, they have an office directly next to the airport, but pre-booking essential. See our page "Getting around by Car, Bus and Taxi" Just four minutes drive from Villa Aglaia is the fantastic beach at Kateleios , winner of a Tripadvisor certificate of excellence and is essentially two beaches, East and West covered with both sand and pebbles, clear waters and very gentle sandy gradient (Ideal for small children). It also has a selection of beach bars including Waves Bar, "touristy" destination, often used by locals. It is very tranquil and peaceful, ideal for solo travellers as well as couples or families.
The beautiful long sandy beaches of Kaminia and Mounda are a 10 minute drive away and are the nesting sites of loggerhead turtles and if you are lucky you may see the hatchlings making their way to the sea.
Mavrata is within easy reach of the town of Skala (15 minutes east by car) and the lovely port of Poros (25 minutes north east) and Argostoli, the capital 30 minutes west.
Argostoli harbour, perfect for seeing the Loggerhead Turtles
Argostoli is a beautiful capital town with many shops, restaurants and bars, the harbour is very popular where you can enjoy a drink or meal with a view or may also see the famous Loggerhead Turtles, often in the mornings when the fishing boats return.
You'll discover very quickly if you are new to Kefalonia, the famous relaxed, friendly and hospitable local Kefalonians, all very proud of their island and if you have stayed before you'll already have an appreciation for the locals. In our time in Kefalonia we have experienced impeccable friendly service in every restaurant, taverna, bar and shop we have visited.